Production Structure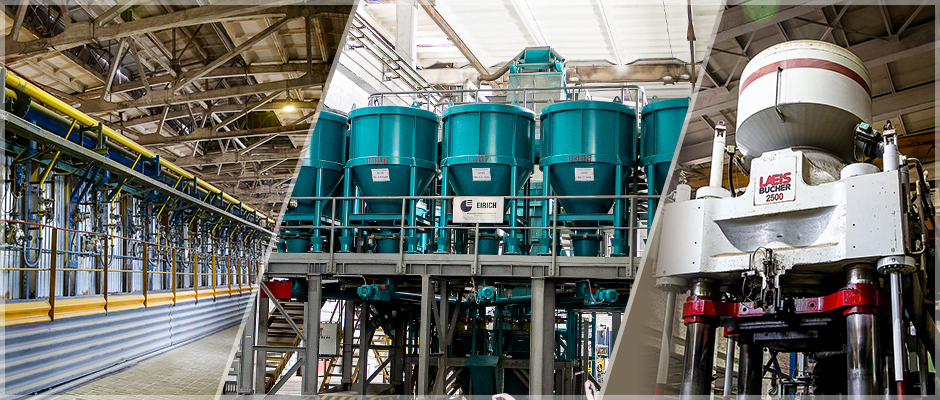 PJSC "ZAPOROZHOGNEUPOR" has 5 main types of production:
magnesian production;

chamotte production;

chamotte-burning production;

highly alumina production;

unshaped refractory production.
Magnesian Production
Magnesian production is characterized by the wide range of periclase, periclase-chromite, chrome-periclase products used for lining of open-hearth and electric steel-melting furnaces, convertors, rotary kilns, and thermal units. The burning is done in the tunnel 156-m long kiln with automatic mode of burning operation. The press section is equipped with German hydraulic presses "Laeis Bucher". One of the PJSC "ZAPOROZHOGNEUPOR" perspective directions is the improvement of magnesian refractory technical characteristics that will become the main construction material for steel-melting and metallurgical units lining in the near future, according to the experts' view. Among the magnesian production of PJSC "ZAPOROZHOGNEUPOR", periclase-carbonaceous refractories take the special place that allow to ensure realization of the progressive metallurgical processes at the leading Ukrainian and World enterprises.
Chamotte Production
Chamotte production is the variety of released refractories that includes ladle, complicated and extra complicated types, general purpose units, stopper and centering pipes, hoppers and others. The press section of Chamotte production is equipped with German hydraulic presses "Laeis Bucher", mechanical presses SM 1085 and with cradle conveyor system, that provide multibrand charge on the kiln trucks. The production is fitted out with tunnel kilns that have the length of 168m, 165m and 87m.
Chamotte-burning production
Chamotte-burning production is specialized in chamotte units production which assortment is not large but very important as the burned chamotte is the basic component for our refractory production. The main equipment of chamotte-burning production is the rotary kilns.
Highly alumina production
Highly alumina production is used in lining for blast-furnace heaters, hot-blast main, secondary steelmaking, and other thermal units of non-ferrous metallurgy. Highly alumina products possess high lasting and refractory qualities. The production is equipped with mechanical presses of native manufacture and German hydraulic presses "Laeis Bucher". The burning takes place in the tunnel kiln with is 156m in length.
Unshaped refractory production
Unshaped refractory production is relatively new PJSC "ZAPOROZHOGNEUPOR" direction which is a part of far-reaching investment enterprise's strategy that is aimed at production diversification. The production line gives the refractory concrete mix for metallurgical, ferroalloy, aluminium and cement industries. The power capacity of this line allows to product about 16 thousand tons per year. The production line is equipped with hi-tech "GALICO" (Slovakia) and "EIRICH" (Germany) facilities, which are world leaders in production of mixture preparation machinery. The production of dry refractory concretes does not use the burning process like in the classical technology of refractory production. It gives a considerable advantage to new materials as there is no use of expensive natural gas during their production. The assortment of released products became rather extended with the new production line, especially thanks to such popular among consumers grades like heat-insulting and slag-forming mixes LPS and USK-L. This production is used for casting various steel grades, in particular, for moulds, crystallizer pans, ladle, and tundish.